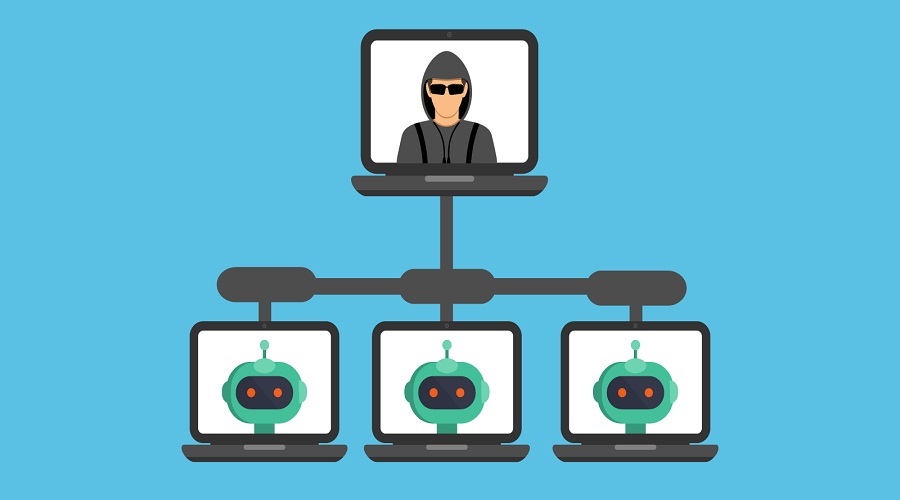 Enemybot is a DDoS botnet that targeted several routers and web servers by exploiting known vulnerabilities.
Researchers from Fortinet discovered a new DDoS botnet, tracked as Enemybot, that has targeted several routers and web servers by exploiting known vulnerabilities. The botnet targets multiple architectures, including arm, bsd, x64, and x86.
The researchers attribute the botnet to the cybercrime group Keksec which focuses on DDoS-based extortion.
Upon installing the threat, the bot drops a file in /tmp/.pwned, containing a message that attributes itself to Keksec. The message was stored as cleartext in earlier samples, new samples were released with the message encoded with an XOR operation using a multiple-byte key.
Experts pointed out that the malware is being actively developed.
The Enemybot botnet borrows the code from the Gafgyt bot and re-used some codes from the infamous Mirai botnet. Gafgyt is a popular choice for launching large-scale DDoS attacks, it first appeared in the threat landscape in 2014.
"It uses several methods of obfuscation for its strings to hinder analysis and hide itself from other botnets. Furthermore, it connects to a command-and-control (C2) server that is hidden in the Tor network, making its takedown more complicated." reads the analysis published by Fortinet. "Enemybot has been seen targeting routers from Seowon Intech, D-Link, and exploits a recently reported iRZ router vulnerability to infect more devices."
The botnet implements multiple obfuscation techniques to avoid detection and hides C2 on the Tor network.
The Enemybot botnet employs several methods to spread and targets other IoT devices. It uses a list of hardcoded username/password combinations to login into devices in the attempt to access systems using weak or default credentials. The bot also tries to run shell commands to infect misconfigured Android devices that expose Android Debug Bridge port (5555).
The malware exploits tens of known vulnerabilities including:
CVE-2020-17456 vulnerability affecting SEOWON INTECH SLC-130 and SLR-120S routers;
CVE-2018-10823 flaw an older D-Link routers (DWR-116 through 1.06, DWR-512 through 2.02, DWR-712 through 2.02, DWR-912 through 2.02, DWR-921 through 2.02, DWR-111 through 1.01).
CVE-2022-27226 affecting iRZ mobile routers;
CVE-2022-25075 to 25084: Targets TOTOLINK routers, previously exploited by the Beastmode botnet
CVE-2021-44228/2021-45046: Better known as Log4j, more details are available on our Fortinet PSIRT blog
CVE-2021-41773/CVE-2021-42013: Targets Apache HTTP servers
CVE-2018-20062: Targets ThinkPHP CMS
CVE-2017-18368: Targets Zyxel P660HN routers
CVE-2016-6277: Targets NETGEAR routers
CVE-2015-2051: Targets D-Link routers
CVE-2014-9118: Targets Zhone routers
NETGEAR DGN1000 exploit (No CVE assigned): Targets NETGEAR routers
Once exploited one of the above flaws, the bot runs a shell command to download a shell script from a URL that is dynamically updated by the C2 using the command LDSERVER. Then the script downloads the actual Enemybot binary which is compiled for the target device's architecture.
In case the download server is down, the botnet operators can update the bot clients with a new URL.
Once the bot has been installed on a device, it connects to its C2 server and waits for further commands
Below is the list of supported commands: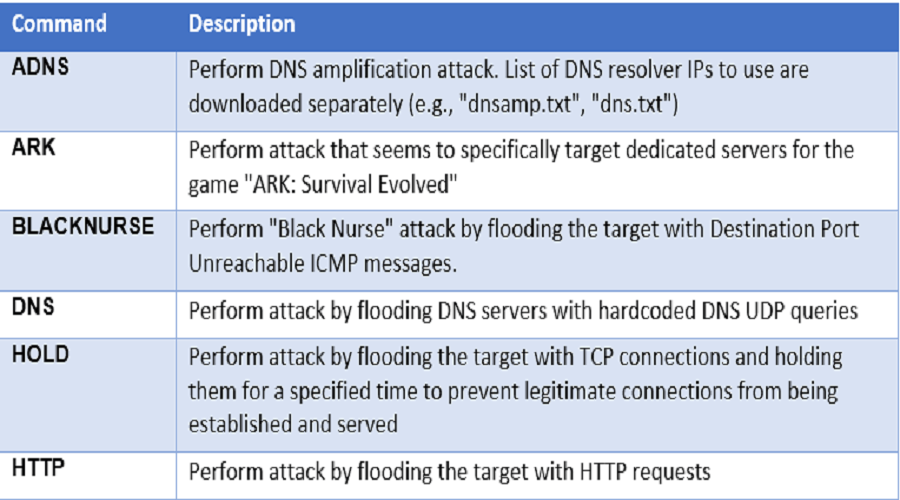 "Based on the analysis of FortiGuard Labs, Enemybot is Keksec's latest tool for performing DDoS attacks." Fortinet notes. "To protect itself, it uses simple obfuscation techniques on its strings as well as hosting its C2 server in the Tor network, taking advantage of the network's anonymity. It uses several techniques commonly found in other DDoS botnet malware to infect other devices."
Source: securityaffairs.co